Blake Shelton made a little boy's life during his show in Durant, Oklahoma. A recent video of him performing with his youngest fan went viral. On Saturday, January 29, he brought up a 6-year-old boy named Wyatt. The young fan was lucky to see his favorite country artist perform in concert.
Little did he know, he would get more than he bargained for. He also got the chance to get on stage and sing "God's Country" with his idol. This adorable moment went viral on social media. Wyatt's mom, Harley McKee, shared the video on Facebook, including her son's precious reaction.
Blake Shelton makes a little fan's night
Wyatt had no idea that he was going to meet one of his favorite country artists of all time. He was just there to watch Blake Shelton perform with his parents. Harley shared his reaction to learning that he was going to the concert, leading up to the big night.
It was a touching moment since her son was diagnosed with Hypoplastic left heart syndrome. Per Music Mayhem, this condition prevents the left side of his heart from growing to its fullest. Haylee spoke to the publication about that special moment. She also shared details of her son's condition.
Wyatt underwent two surgeries throughout his life. He needs a third, but his heart is "too sick" to undergo another operation. Instead, Wyatt has an IV in his arm and a backpack that contains his medication. They're hoping that he can get a transplant, but he's been on the list for the past year.
Haylee also shared a photo of Wyatt holding up a sign he made for Blake Shelton. It reads: "Your smallest biggest fan from Lake Texoma, six years old [and] waiting on a heart transplant." Blake took notice of the little boy at his show and invited him up on stage to sing with him.
Blake Shelton and Wyatt perform "God's Country"
Blake Shelton thought this was the perfect way to cheer everyone up. The two sang his hit song "God's Country" together. Prior to that, Blake told the crowd that he wanted to change their perspective on things. He couldn't help but think of little Wyatt and what he's going through.
"Think y'all are having a bad day, put that into perspective right there, man," Blake Shelton said. "And so, the next note he has on here, he asked if he could sing this song with me. …Me and Wyatt are going to sing 'God's Country' together."
The two then belted the song. Blake handed the mic over to Wyatt so he could sing the chorus. He eventually brought Wyatt back to his mom and finished the song on his own. Blake then got everyone to cheer for Wyatt. This video will certainly make your day.
Check back with Country Music Alley for more news on Blake Shelton.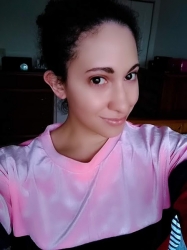 Latest posts by Chanel Adams
(see all)