Gwen Stefani is reaching new heights in her career. As Country Music Alley previously reported, she performed at RodeoHouston for the first time. She was initially scheduled to perform in 2020, but it was canceled due to the COVID-19 pandemic. Gwen took to the stage and performed many of her hits. Fans wondered how she could make it work on her own, but she managed.
The singer proved that she didn't need her husband Blake Shelton. Gwen just played the part of a country girl. While she didn't perform any of their country hits, she still kept the crowd going with some of her hits like "Hollaback Girl."
No Doubt singer had star power in her RodeoHouston debut
Gwen Stefani made her big debut at RodeoHouston this week. She took the stage and commanded attention from concertgoers. The singer took music from her 30-year career and performed hits in front of a crowd of over 65,000. On Tuesday, March 15, Gwen took to the stage in a white embellished and gold-fringed outfit that included cowgirl boots and fishnet stockings.
She started her performance with "Sweep Escape" from her 2006 album of the same name. Gwen made sure to include many singalong songs throughout her set. A group of dancers joined her to perform the choreography for every song. Gwen Stefani even teamed up with her trombone-keyboard player, Gabrial McNair.
She also performed other classic songs like "Sunday Morning" and "Underneath It All." The GXVE Beauty founder didn't want to "disappoint" the crowd since Blake wasn't there. So, she performed her deep-cut "Bathwater," which is from No Doubt's 2000 album, Return to Saturn. The crowd went crazy when they heard the music to "It's My Life."
Gwen Stefani continued to mix it up with "Wind It Up," "Cool," "Don't Speak," "What You Waiting For?," "Hey Baby," "Just a Girl," "Spiderwebs," and "Hollaback Girl." She impressed the crowd with her energetic performance. The blonde beauty even jumped on the back of a Ford truck. Since then, her career has reached new heights.
Gwen Stefani takes on a new height
On Friday, March 18, Gwen Stefani posted a new clip on Instagram. She captioned the post: "reached new heights at @rodeohouston. 🥰" In the video, Gwen wore a black-and-white checkered sweatshirt. She showed fans the stage she had to perform on at RodeoHouston. 
The "Slow Clap" singer says she's scared of heights. Gwen and her band were doing a soundcheck before her performance. The actual stage itself revolved as she performed. Despite her fears, Gwen Stefani was willing to take on this new feat in her career.
What are your thoughts on Gwen Stefani's RodeoHouston performance? Did you check it out? Sound off below in the comment section. Check back with Country Music Alley for more news on Gwen Stefani.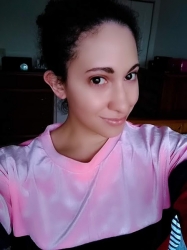 Latest posts by Chanel Adams
(see all)