Maren Morris is demanding respect for her "mom boobs." The country singer ticked off a troll who said she should dress appropriately now that she's a mom. She posted a hot photo of herself wearing a cleavage-bearing dress. The 31-year-old has always been body-positive, especially since welcoming a baby in March 2020.
"The Middle" singer has talked about her love for her body in previous Instagram posts. She feels good about her post-baby body. Maren will also continue to dress the way she wants, even if it doesn't make the trolls happy. Check out the photo for yourself and her cunning response.
Maren Morris shows off curves in new photo
Maren Morris loves to show off her baby. She's posted many bikini photos over the past few years alone. On Friday, March 18, the country superstar shared an exchange she had with an online troll on Instagram. Three weeks ago, Maren posted photos of herself wearing a body-hugging dress that showed off her curves.
It featured a bodice that showed off her cleavage. It also had a nude panel to make it look as if it was a two-piece outfit even though it was a dress. The calf-link dress showed off her amazing body. Maren Morris paired the look with black strappy sandals. She also wore silver hoop earrings and matching silver jewelry.
"b*tch, you better be joking."🌿🌿🌿🌿🌿🌿🌿," Maren Morris captioned the post.
On Friday, March 18, she posted a black-and-white photo of herself topless except for a cowgirl hat. The image is from her 2019 photoshoot with Playboy. In her caption, Maren explained that she got a lot of heat for it. Yet, she's proud that she showed off her sexuality.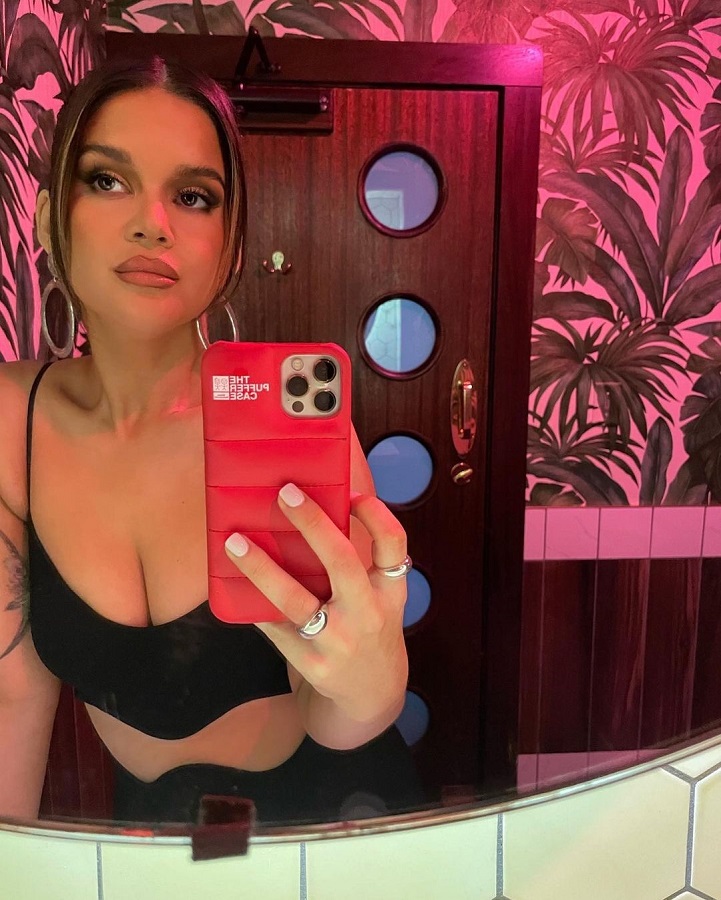 "Before I go into the next album era, I did @playboy in 2019 and got a lot of hate at the time, but I'm proudest that I showed country female sexuality in its realest form here," Maren Morris wrote. "We are nuanced, we are messy and stretch-marked in the most beautiful way. Don't sleep on us. We tell your own home stories in the most unflinching, gorgeous lane. Don't forget it."
While she got backlash for that photoshoot, she got approval in the comment section. Maren's friends shared their support. Marybeth Barone wrote, "omg stun," while Joyola Dokun added, "proud of ya." Alison Roman commented, "maren i love you" and RHOBH star Kyle Richards wrote, "Holy smoke show." Check out the photo for yourself here.
Fights back at online troll
However, it was a different story according to her Instagram Stories. Maren Morris fought back at an online troll who slammed her in the comment section of one of her Instagram posts. "Please dress appropriate," the troll wrote. "RESPECT 4 MOM BOOBZ," she demanded.
Maren Morris shared the exchange on her Instagram Stories. "I see this kind of comment a lot on country music accounts at me, sooooo GET OVER IT." The comment stemmed from a post where she stood on stage at a concert in a romper and fishnet stockings. Check out that photo for yourself here.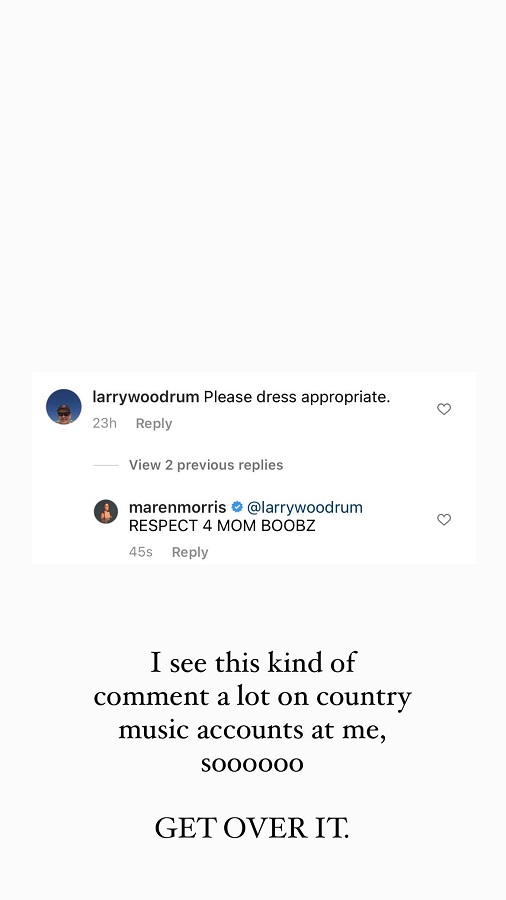 What are your thoughts on Maren Morris' sizzling Instagram posts? What do you think of the hate she gets? Sound off below in the comment section. Check back with Country Music Alley for more news on Maren Morris.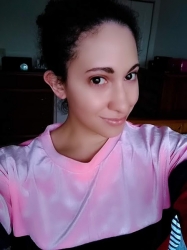 Latest posts by Chanel Adams
(see all)