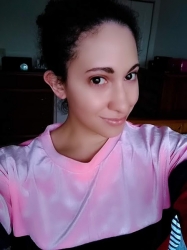 Latest posts by Chanel Adams
(see all)
Fans are raving over Kelly Clarkson's rendition of this Demi Lovato song. The singer just dropped her cover album earlier this month. She made the project in a response to the explosive popularity of her "Kellyoke" covers. Kelly's already gotten praise for her cover of Billie Eilish's popular song "Happier Than Ever."
This week on The Kelly Clarkson Show, she performed her rendition of Demi Lovato's "Anyone." The American Idol alum proves that she can sing anything — and she can outsing her fellow pop artists. In the video, Kelly wore a gray patterned dress and is joined by a piano player.

Kelly Clarkson fans love her Demi Lovato cover
Once again, her latest "Kellyoke" cover was a hit. She took the song and made it her own. Kelly Clarkson sang with emotion as she looked into the camera and emotionally sang the lyrics. Fans rushed to the comment section of the YouTube video to share their thoughts.
"This song is soooo perfect for Kelly, I was absolutely blown away by this cover…."
"I personally find this to be one of Kelly's best covers on the show."
"This song is beyond beautiful, but not easy to sing well. Kelly did an amazing job!"
"Kelly Clarkson can sing ANY song and make it sound like her song. She is so gifted and has God-given talent!!"
"Kelly has the technical abilities that make this song feel as effortless as Demi does, and that is mind-blowing."
This comes as Kelly Clarkson gets ready to enjoy her summer vacation. She will not be returning to her red chair in the upcoming season of The Voice. Kelly admitted that she wanted to take a true summer vacation this year. She worked ever since she was a teenager, and never took a break.
When Kelly turned 40 years old this year, she had a revelation. She realized that she needs to say "No" more, which is a reminder to all busy moms and women. During a recent episode of The Kelly Clarkson Show, she told country music star Faith Hill that she's always working.
Should she collaborate with Demi Lovato?
This isn't the first time that Kelly Clarkson has covered one of Demi's songs. She previously sang her renditions of "Cool for the Summer" and "Confident." Back in 2014, Demi revealed her "dream collabs" on Twitter, which included Christina Aguilera, Drake, Ed Sheeran, Eminem, Lil Wayne, Macklemore, Marc Anthony, Nicki Minaj, and Kelly Clarkson herself.
The two shared the stage at the 2011 Christmas concert. However, fans wonder if Demi's dreams will ever come true. Demi is a huge fan of the singer and even made her screen name "Little Kelly." The "Heart Attack" singer wants to work with the "Heartbeat Song" singer.
Kelly told MTV News that she's "Down" to work with the former Disney star. It didn't work in the past because she became a first-time mom. Fans would also love to see the two Texans collaborate. Since both Kelly and Demi are working on new music, it could happen.
Dream Collabs: Kelly Clarkson (duh), Eminem, Ed Sheeran, Marc Anthony, Christina Aguilera, Macklemore, Lil Wayne, Nicki Minaj, & Drake 🎶🎶

— Demi Lovato (@ddlovato) April 29, 2014
What are your thoughts on Kelly Clarkson's latest cover? Do you think she should collaborate with Demi Lovato? What's your favorite "Kellyoke" cover? Sound off below in the comment section.
Check back with Country Music Alley for more news on Kelly Clarkson.