Lady A released a statement letting fans know they are postponing their 2022 Request Line Tour until 2023. The tour was supposed to get started on August 13 in Nashville, Tennessee.
In the statement, Lady A announced as a group that they were postponing the tour because they were rallying around a "family member." It turns out that one member of the trio is seeking medical help at this time, Charles Kelley.
Lady A postpones concert tour to help 'family member'
In the statement to fans, Lady A announced that Charles Kelley, one of the band's key members, is starting a "journey to sobriety." The group, which also consists of Hillary Scott and Dave Haywood, let fans know what was happening. They explained why they were postponing the tour and what was next for Lady A. Furthermore, they said that this is happening in "real-time" and fans would soon hear what will happen with their tickets.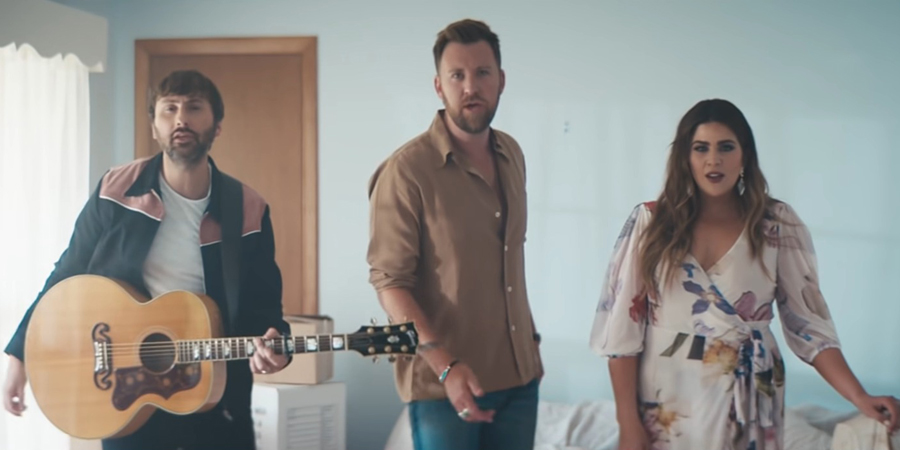 "We have decided to postpone our Request Line Tour until next year," the band wrote in the statement. "Being on the road with our fans is our greatest joy, so it was a hard but important decision to make."
"We are a band, but more importantly… we're family. We're proud to say that Charles has embarked on a journey to sobriety. So, right now in order to be the healthiest strongest and most creative band we can be, Lady A will take the time with the support of our families and team of professionals to walk through this together. It's early on this road, but we are determined to do what will best set us up for many more years together."
Lady A finished by saying the "point of purchase" for fans' tickets would contact them in the next few days with new ticket information.
"We're looking forward to making 2023 our best year yet," they finished.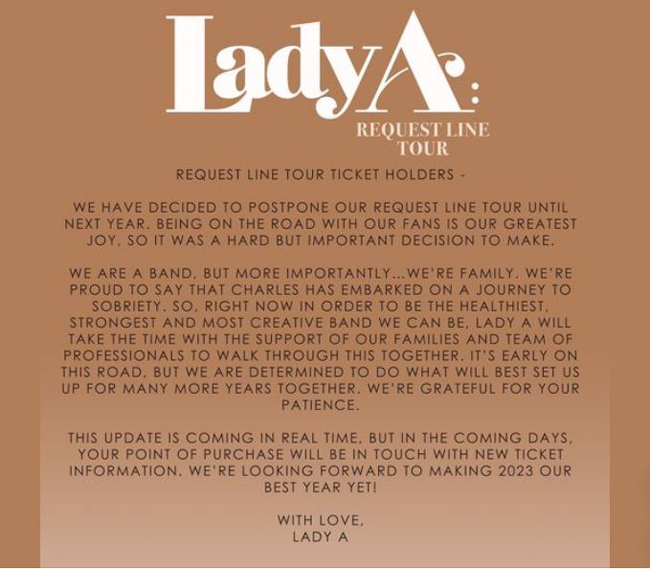 Request Line Tour is an interactive event
The 2022 Request Line Tour was an interactive event. The tour has 20 shows, including New York City and Washington D.C. As the name indicates, fans directly request songs, helping shape each city's setlist. The rescheduled dates in 2023 should keep that same format.
This all comes after Lady Antebellum changed their name to Lady A because of the negative connotations of the word "Antebellum." However, this led to a legal battle since there was already a musician called Lady A in Anita White. She has used the name for 30 years. Both sides ended up filing separate lawsuits. In February, Anita White and Lady A reached a settlement in a "confidential, mutually agreeable solution." Since changing their name in 2020, Lady A released their eighth album, What a Song Can Do. It featured the hit single "Like a Lady."
Good luck to Charles as he embarks on this very brave journey.
Latest posts by Shawn Lealos
(see all)