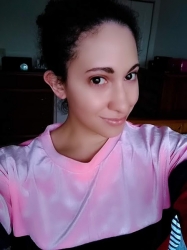 Latest posts by Chanel Adams
(see all)
Luke Bryan was the center of negative attention. That's rare for the country singer who strays from controversy. As Country Music Alley previously reported, Luke's recent stop in Jacksonville caught attention on Twitter. It all started when one fan shared a video from his concert.
Luke brought out Governor Ron DeSantis during his show. The crowd cheered and chanted "USA." The reason why Luke brought out the Florida governor was that he wanted to bring attention to the devastation of Hurricane Ian. People took it the wrong way and thought Luke was making a political statement. Read on to see what he has to say after catching heat for it.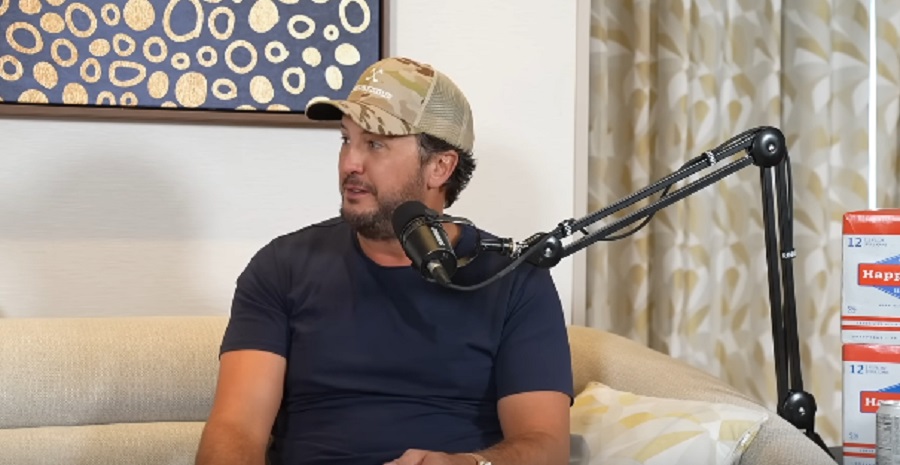 Luke Bryan trends on Twitter
Over the weekend, Luke Bryan trended on Twitter for all the wrong reasons. The video of him onstage with DeSantis went viral. Some of his fans were disgusted with his Jacksonville stop. They took to Twitter to share that they will no longer listen to the "One Margarita" singer's music.
Others informed American Idol of their association with the country singer. While Luke received a warm reception at his concert, that wasn't the case on Twitter. Many of them were upset over his surprise guest. This came as a shock to his fans since Luke typically steers away from politics.
"And Luke Bryan just got crossed off the playlist."
"So Luke Bryan admits he hates women, LGBTQ people, and immigrants."
"Sad and seriously disappointing. F*** you Luke Bryan."
"Hey, @AmericanIdol did you know you had a singing judge, Luke Bryan, who supports a racist and homophobic on your show? If you continue to have him on the show you will lose my viewership. Disgusting!"
"Well, now Luke Bryan can f*** all the way off now."
Luke Bryan wanted to do a good thing. He brought out the Republican politician to talk about the devastation of the state from the hurricanes. Luke shared that proceeds from the sales of his show would support the Florida Disaster Fund. Meanwhile, DeSantis asked the audience to vote for him at the Tuesday, November 8 midterm election.
DeSantis just walked out on stage at Luke Bryan. It's deafening in here. pic.twitter.com/WHelgPCxM1

— Bonnie Upright, APR (@bonnieupright) October 29, 2022
The country singer breaks his silence on social media
On Sunday, October 30, Luke Bryan broke his silence on social media. He released a statement about the backlash he received over his special guest in Jacksonville. Luke took to Facebook and Twitter to share a statement. He admitted that he's not the type of guy who talks about these topics.
"I typically don't respond to stuff when I'm getting run down on a social platform but here's the deal. I understand Governor DeSantis is a very polarizing figure," Luke Bryan wrote in his lengthy statement. "But I grew up in a country where if a governor asks you if they can come and raise awareness to help victims of a natural disaster you help."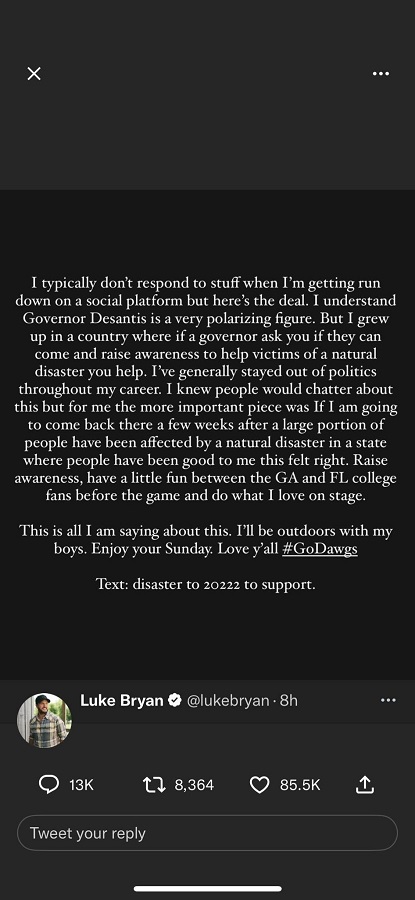 The singer-songwriter admitted that he typically stays out of politics. However, Luke is aware of the "chatter" on Twitter. He doubled down on his choice to bring DeSantis to his concert. Luke just wanted to focus on the hurricane that left Floridians homeless.
"Raise awareness, have a little fun between the GA and FL college fans before the game and do what I love on stage," Luke Bryan continued. "This is all I am saying about this. I'll be outdoors with my boys. Enjoy your Sunday. Love y'all. #GoDawgs."
He also encouraged his fans to help support the victims via donations. During the Jacksonville show, Luke also presented DeSantis with a Georgia Bulldogs jersey. What are your thoughts on his statement? Sound off below in the comment section.
Check back with Country Music Alley for more news on Luke Bryan.