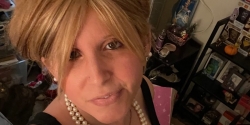 Latest posts by Amanda Nowitz
(see all)
Jelly Roll had a serious mishap when it came to the 2023 CMA Awards. Though much of the focus was on his performance with Wynonna Judd, there was more to the night. So, what happened to the award winner post-show? Read on for more details.
Jelly Roll's Serious CMA Award Mishap
The CMA Awards were a big night and Jelly Roll was very excited for all of the things to come. He was performing his hit, "Need A Favor" and he shared that he had a surprise guest joining him. No one had any idea who would be with him and then the iconic Wynonna Judd shocked everyone. She actually stunned them in more ways than one. Of course, her presence on stage was a thrill but she looked unsteady and unstable. This caused a lot of concern despite her singing being on par. She later explained what was going on but Jelly Roll had a great night aside from that.
According to K-Law 101, Jelly won the CMA for New Artist of the Year. This was his first ever CMA Award so it was a huge deal for the hitmaker. During his speech, he thanked God, his beloved wife, Bunnie XO, and his fans, plus he made sure to recognize the other nominees. He added this:
"But most importantly, there is something poetic about a 39-year-old man winning New Artist of the Year. I don't know where you're at in your life or what you're going through, but I wanna tell you to keep going, baby. I wanna tell you success is on the other side of it. I wanna tell you it's gonna be ok. I wanna tell you that the windshield is bigger than the rearview mirror for a reason: Because what's in front of you is so much more important than what's behind you!"
This was so motivational as Jelly is the kind of man and performer who is always giving back to those around him. He makes sure that when he is on tour, he stops at prisons to inspire those that they can succeed as he has. Unfortunately, he had better hold on to the photos because he did not hold on tight enough to the award.
Guess who dropped and broke his best new artist #CMAawards? Yes, @JellyRoll615 but don't worry, he will get a replacement. #JellyRoll pic.twitter.com/Mlic2zGws3

— On The Red Carpet (@OnTheRedCarpet) November 9, 2023
The Crash
Jelly Roll did end up breaking his new award just a short time after he received it. Fortunately for him, he will get another so no worries there. Yet, what a night. He had two killer performances, Wynonna and K. Michelle, and won an award then he broke it. At least it was an extremely exciting and eventful evening.
Are you surprised he broke his award already? More so, are you happy that he will get a new one? Let us know your thoughts in the comments below.