Kelly Clarkson and Ariana Grande have become good friends on The Voice. As Country Music Alley previously reported, the two first interacted in 2013 and the rest is history. Now, they have become best friends thanks to the NBC singing competition. Fans are loving their flourishing friendship.
They're also looking forward to their collaboration. Last month, Kelly announced that she's releasing a new Christmas album. She unveiled the tracklist on Instagram, which features a duet with the "Positions" singer. Not only have the two been singing together, but they've also been drinking together.
How they came up with the drinking game
Kelly Clarkson and Ariana Grande created a drinking game of their own. On The Voice, it was revealed that Kelly's favorite word is "navigate." She loves the word so much that it inspired her to start a drinking game during the fifth night of Blind Auditions. On the Monday, October 4 episode of the show, Kelly and Ariana would clink their glasses every time she used the word. Even Blake Shelton joined in on the fun.
"Blake and Ariana have decided that Kelly says 'navigate' a lot and they've started a little clinking game," John Legend said. "I think Kelly is trying to navigate her way into a thesaurus."
"That's the word you use… fine, I'll look up some synonyms for 'navigate,'" Kelly Clarkson fired back. "What do I have to do? Dumb it down? Read a book!"
The "Because of You" singer changed her mind and argued that she "navigated a competition before." Kelly also joked that the crowd "cheers every time" she uttered the word. She made good use of the word after Ryleigh Plank sang her rendition of Demi Lovato's emotional ballad "Anyone." Ariana also turned her chair for the 20-year-old and said she was "brought to tears."
Kelly Clarkson shades From Justin to Kelly
Ariana bonded with Ryleigh Plank over being Floridians. Kelly Clarkson said she moved to the state in 2003 where she "made a horrible movie." The American Idol alum shaded her project, From Justin to Kelly.
Ariana disagreed with her fellow coach, saying, "That movie was iconic." However, Kelly's pitch worked against her since Ryleigh joined Team Ariana. That's okay since Kelly and Ariana are still good friends. They're not as competitive as Kelly and Blake.
Kelly still used a similar pitch after Brittany Bree's rendition of The Weeknd's "Call Out My Name." "I know how to navigate a competition. I won this show before," Kelly Clarkson said. Blake joked that he's "been here forever and I'm not sure how much these others know."
The country singer schooled the competition. He argued that Kelly "abandoned her state (of Texas) and family" and that John Legend "probably hasn't been in a church now in (over) 30 years." While he felt that Ariana "can be the greatest coach we've ever seen on The Voice," he noted that she "could (also) be the worst."
Bree ultimately chose John Legend. What are your thoughts on Ariana and Kelly's fun drinking game? Do you like their friendship? Sound off below in the comments.
The Voice airs Mondays and Tuesdays at 8 p.m. ET on NBC.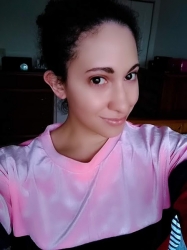 Latest posts by Chanel Adams
(see all)