Carrie Underwood took place in a viral plank and pushup challenge. As per usual, the singer absolutely crushed it. This may give you the bit of fitness inspiration that you need today. As fans already know, Carrie is committed to her workouts, which is why she doesn't break a sweat while doing them.
It's the reason why she's been doing it for years. On Friday, October 22, she shared a video of herself taking on a new challenge on TikTok. The American Idol alum has been on top of her TikTok game lately. Country Music Alley previously reported when she shared a video of her relationship with her husband Mike Fisher.
Carrie Underwood conquers TikTok challenge
It's no wonder Carrie Underwood is fit. She can do any exercise that she puts her mind to. She shared a video of herself doing the TikTok fitness challenge created by Fit52 trainer Kevin Edmonson. The challenge consists of doing a series of pushups and planks.
The "Jesus, Take the Wheel" singer completed it without breaking a sweat. Carrie Underwood executed every exercise flawlessly. First, she started with a series of pushups, followed by a plank with alternating hand raises. Then, she alternated shoulder taps as she held her plank form.
Her body doesn't even sway from side to side as it normally would for most people. Carrie retained her form the entire time, which means she has a strong core. Fans have seen a glimpse of her six-pack abs before. Carrie lowers down to hold her plank closer to the ground. Then, she performs a series of plank pushups, in which she transitions from a forearm plank to a regular plank.
She finishes off the tricky challenge with a final pushup. The blonde beauty manages to do this with a smile on her face. Most people would look tired if they tried this challenge. Carrie proved that she's strong and tough, no matter what she's doing.
Fans react to incredible video
Carrie Underwood fans are impressed. While the singer made it look easy, it's far from it. Her fans flooded the comments section of the video to share their thoughts. Most of them were tired just looking at her.
"I think my arms fell off watching this! Way to go!"
"And she's not even struggling!"
"

Love this!!!!! 💪🏼💪🏼💪🏼💪🏼 you're so strong and amazing.

"
"

carries way better then us 😂

."
"

I ♥️ this so much

."
Carrie is passionate about fitness. She has her own athleisure line, CALIA by Carrie Underwood, and her own fitness app, Fit52. In a previous interview with Prevention, she said that she makes fitness a priority both on and off the road. Carrie even brings a workout trailer with her whenever she's on the road.
What are your thoughts on Carrie's TikTok video? Are you impressed with her form? Sound off below in the comments.
Check back with Country Music Alley for more news on Carrie Underwood.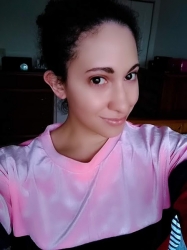 Latest posts by Chanel Adams
(see all)