Lauren Alaina had a bit of a meltdown at the Grand Ole Opry. The country singer burst into tears and collapses on stage as Trisha Yearwood invites her to become a member. That's when she realized she fulfilled one of her biggest goals. The 27-year-old fell to her knees on that very stage on Saturday night.
All it took was two words. Trisa made a surprise appearance to invite Lauren as the Opry's newest member. At first, the singer-songwriter couldn't register what was going on. She couldn't breathe and she couldn't talk as she hovered in her black sky-high stilettos and black velvet gown.
Lauren Alaina hyperventilated at the Grand Ole Opry
Trisha joked that the invite felt like a "wedding proposal." Except the 57-year-old singer wasn't the one on bent knee. Lauren was the one bending over on the floor. She waited for the young singer to say yes.
"Yes!" Lauren Alaina said resoundingly as tears streamed down her face. "All I ever wanted was to be a member of the Grand Ole Opry. I snotted on stage."
She later admitted that she was hyperventilating on stage.
"I felt like Bambi," she said in an exclusive interview with People. "My knees … all of a sudden, I [had] to get closer to the floor. Then it was, 'There's a slit in my dress, stand back up.' That's all I could think."
Even Lauren's mom, Kristy White, didn't know anything about the invite. Yet, she always told her daughter that she had dreams of her becoming a member of the Grand Ole Opry. The singer's father, J.J. Suddeth, was also there in attendance. He came out to the afterparty to celebrate his daughter's invite. When Trisha invited him on stage, Lauren knew something funny was afoot.
"She said my dad was here, and I was embarrassed because I'm like, 'My dad's not here, and this is so awkward,'" Lauren explained. "She said, 'No, your dad is here.' I saw him. I thought, 'There's no way she's about to ask me to be a member.'"
Shared her proudest moment on social media
Shortly after the event, Lauren took to social media to share the moment. She posted a photo of herself crying on stage at the Grand Ole Opry. The musician is still speechless about that moment. She called the venue "the most magical place on earth."
"It takes my breath away every single time I step out on that stage," Lauren Alaina continued. "It has been my biggest dream in my career to become an official member of the Opry family."
She credited the two Trishas — Trisha Yearwood and Trisha McClanahan for making it a "night to reMEMBER." Lauren called the invite an "honor," and further expressed her gratitude. Lauren's already had an incredible year. She's headlined her own tour, wrote a book, topped the charts, won an award, and embarked on her acting career.
Check back with Country Music Alley for more news on Lauren Alaina.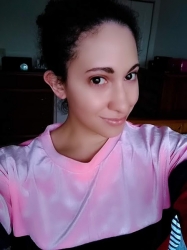 Latest posts by Chanel Adams
(see all)