Latest posts by Tresa Patterson
(see all)
However you cut it, country music songstress Mickey Guyton is on one heck of a Valentine's Day streak. First off, the Grammy nominee pours her heart and soul into every soaring note of the National Anthem as no other performer slays in the same manner on Super Bowl Sunday.  Then, Mickey Guyton celebrates her triumphant moment before millions in royal company, along with her mom and dad.
When it comes to her heart, though, Mickey Guyton never wavers. Her new song, "Lay It On Me" is a bare-hearted, wrenchingly honest pledge of devotion to the one and only man in her life, her husband, Grant Savoy.  Mickey opens up and reveals the deeper layers of the tender ballad for CMT's "Hit Story."
Although she receives welcomes from the heady company in country music and wider celebrity circles these days, Mickey Guyton clearly honors the sacrifice and constant support of the man who exchanged vows with her in 2017. "Lay It On Me" is her testament to the truth that real love is never about hearts and flowers. It is about reaching into the deepest hurts, moving past heartache, and being courageous enough to be vulnerable.  Uncompromisingly, this song wants to dig into hidden places. Still, Guyton fills every refrain with the soaring range and deft simplicity that remains remarkable.  Coincidentally, she also insists that the song belongs to more than her life partner.
Raves and real love in Mickey Guyton song
Not surprisingly, Mickey Guyton deems her performance on the worldwide Super Bowl stage as "a God moment," as she related to Entertainment Tonight. Equally not surprising is the rave reception coming from all corners of country music royalty, and even their kids for the girl who grew up in church in Arlington, Texas. Sister Arlington native, Maren Morris, summarized it with a giant "WOW," as Graeme O'Neal reports. In unison, Sheryl Crow and Shania Twain sang praises in Mickey's corner. Wholeheartedly, Crow confirms how difficult the emblematic song is to sing before exalting Guyton's effort with "You killed it."
Of all the gushes over Mickey Guyton, Tyler Hubbard of Florida Georgia Line offers the most spontaneous and genuine from his couch with the kids.  "Wow, whoa, smash," utters the frontman, father, and football fan in agreement with his family. Naturally, few viewers among the millions disagree.
Brave enough to bare the heart
When it comes to raw emotion, Mickey Guyton demands "let your heart be naked" in "Lay It On Me" and clearly, that level of emotional intimacy is far rarer than anything physical.  The "Black Like Me" artist takes true love even deeper, pleading "I want the light that fills the darkness– give me your heaven and your hell." The raw verse closes with "I want to show you that you're worth it," just ahead of the title line. Listeners feel every beat of her heart.
In seeking her husband's "perfectly imperfect," Mickey Guyton instantly owns up to her own humanity.  It's no wonder that she insists that "Lay It On Me" belongs to "all of us" in addition to her pure dedication to Savoy because everyone carries struggles in these divided, pandemic times.  She wants fans and followers to know "I've got you."
Playing the romantic, Mickey Guyton compares the feeling of the song to the sweeping Hope Floats climax when Harry Connick, Jr. carries Sandra Bullock away after the photo mart epiphany.  "I ain't trying to be your Savior, but I'm right here," promises the steadfast wife.
Prepare for tears
With no hesitation, Mickey Guyton stresses that "Lay It On Me" celebrates "my amazing husband," who did without to provide necessities like rent for his lady when "I was extremely broke." Above and beyond anything material, Guyton declares that her husband "believed in me when nobody else did," and that includes the songwriter herself.
Mickey Guyton has the skill to aim her lilting notes straight for the heart. It's a sure bet that tears will well up to the surface for anyone who lets "Lay It On Me" soak in.  Mickey knows tears flow for her husband.  "He cries with a lot of my songs," the "Love My Hair" singer verifies. The wedding photos further demonstrate teary-eyed joy for both bride and groom.  "If you can love someone when times are bad, you can do anything," Mickey Guyton attests as living proof.
Mickey's mom got first dibs at Prince Harry
By now, Mickey Guyton's Super Bowl rendition has reached around the globe.  Country Music Alley commemorated the release of the courageous Remember Her Name last August.  Even though the whole world witnessed the singer-songwriter center stage after Super Bowl, Mickey Guyton was not the first to get Prince Harry's attention.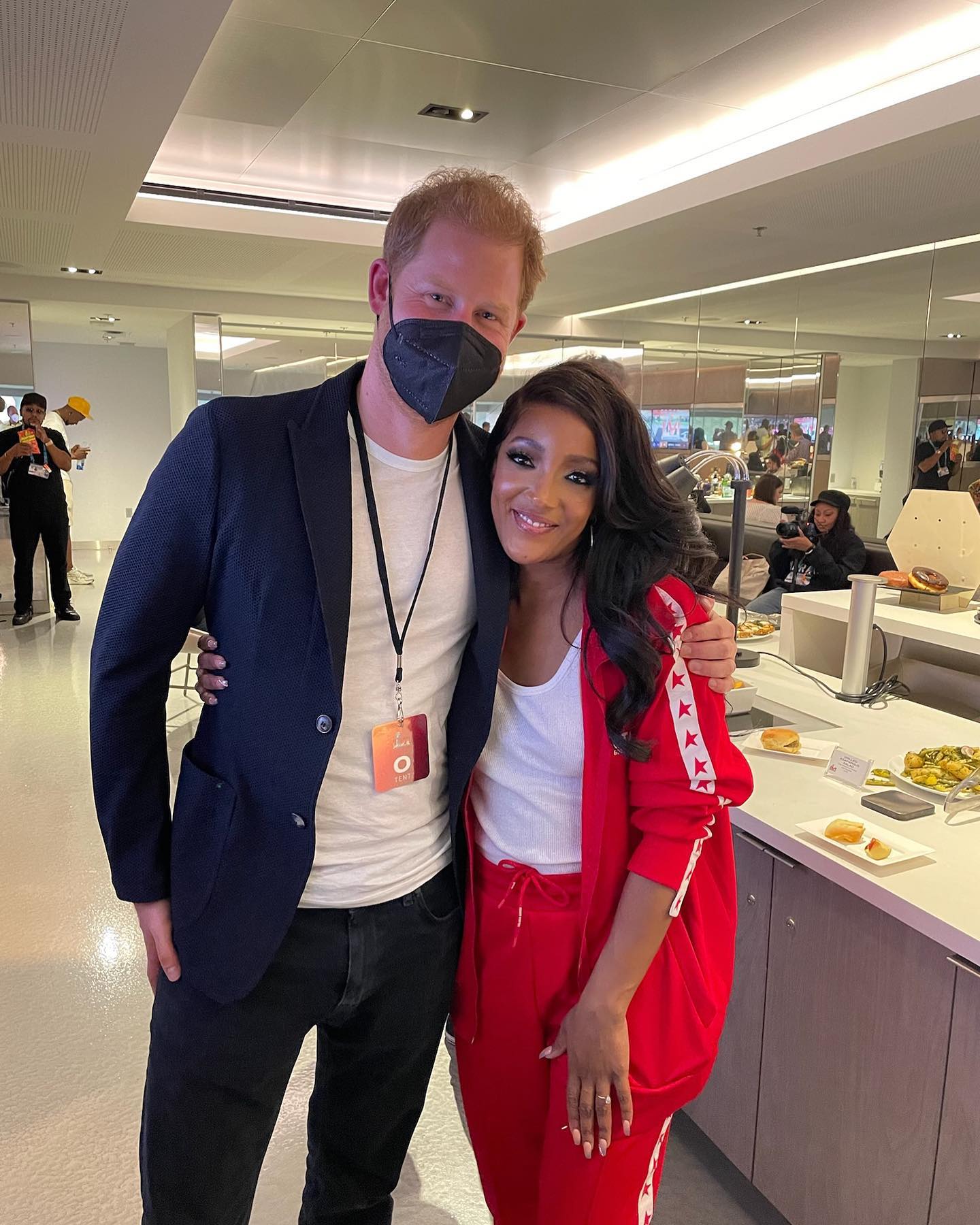 To be sure, Mickey Guyton has a precious keepsake photo with Prince Harry. She gushed that she "even curtsied in my tracksuit" in proper respect to the most personable of the Windsor's. However, Mickey's mom snared the Royal's attention long before her daughter came into frame.
"He already took pictures with my mom and my family, " Guyton revealed to Entertainment Tonight. Despite the courtesy, though, Mrs. Guyton remained in disbelief that the courteous subject was the real Prince Harry. "Doesn't he look like Prince Harry?"  the matriarch questions. "Mom, that IS Prince Harry!" her daughter replies.
In a day rife with celebrity A-listers, from Bennifer, Matt Damon, Lebron, and more, Mickey Guyton is delighted to go home with the man with the golden heart who gave her a ring.
Keep Country Music Alley as your prime source for news on the stars at the pinnacle of country music– we have it covered!