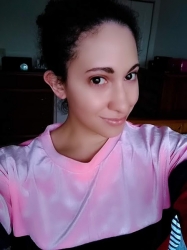 Latest posts by Chanel Adams
(see all)
Kelly Clarkson shared a special message with her fans and friends. She thanked them for changing her life. The singer took to Instagram to write a lengthy thank-you letter to her fans and followers. She celebrated the time when her life forever changed 20 years ago when she won American Idol. Read on to learn more and to see the heartfelt message for yourself.
Kelly Clarkson writes a heartfelt thank-you letter
On Sunday, September 4, Kelly Clarkson broke her silence on Instagram. She shared an important message with her fans. She thanked them for their ongoing support since the start of her singing career. Little did she know where she would end up now.
Kelly Clarkson is feeling grateful in this moment of her life. Now she has an Emmy-award-winning daytime talk show. At the time, the American Idol Season 1 winner had no idea that her career would take her this far. Kelly is many things now. Not just a singer.
"20 years ago today I won American Idol and it forever changed the course of my life," Kelly Clarkson started her message. "That moment was the door that opened up so much access and opportunity, and creative partnerships that I will be grateful for all of my days. The family and friendships I have created over these 20 years in music and tv are priceless to me."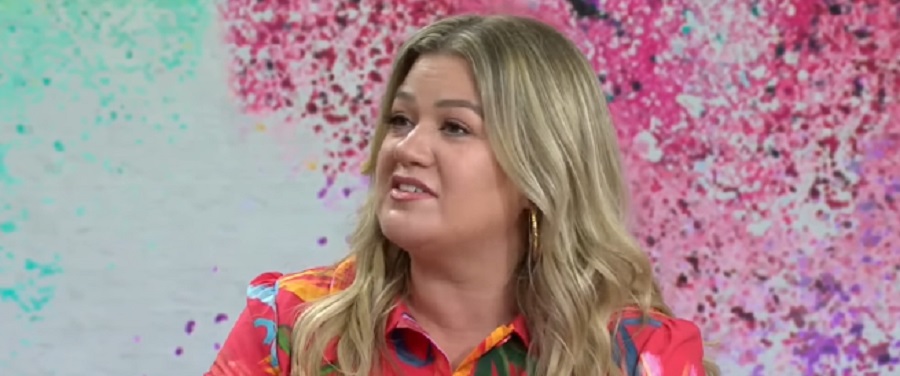 The singer reflected on her journey. She admitted that she's "proud" and "blessed of the successes and failures that I have learned from." However, Kelly is "most proud and grateful for those friends that have become family." Without them, she feels that she wouldn't be the person she is today.
Also, the "Stronger" singer took the time to thank her fans. She's grateful for their support over the duration of her career.
"Thank you so much to every single person that voted 20 years ago!" Kelly Clarkson continued. "Thank you! Thank you! Thank you! I hope all of you have people in your lives that fill you with laughter, and hope, and happiness, and if you don't feel like you have that, then keep searching because I promise you they're looking for you too."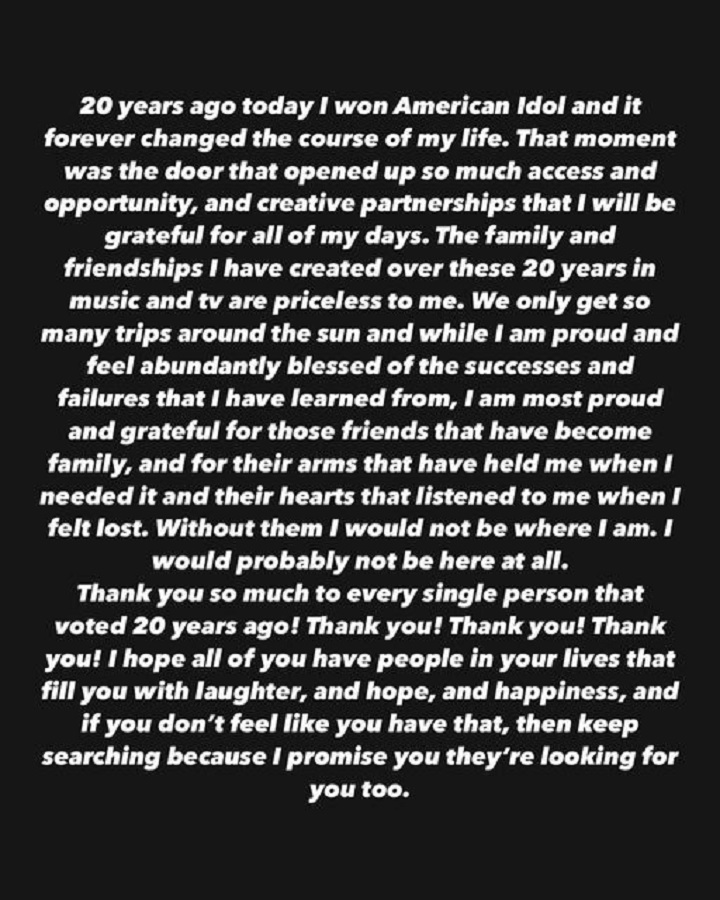 She's thanked her fans before
This isn't the first time that the country singer has expressed gratitude to her fans. When she won American Idol, she released her debut album titled Thankful. The title track was about the singer expressing the support she received for her music career.
Kelly Clarkson's friends and followers stormed the comment section to show their support. Idol alum Adam Lambert wrote, "❤️❤️❤️❤️ a voice of a generation and a huge heart that beats w Integrity and Joy. Thank you icon ! [SIC]"
One fan wrote, "BEYOND THE BEST!" while another added, "Congrats! You're amazing." Most of them revealed that they voted for her 20 years ago.
What are your thoughts on Kelly Clarkson's Instagram post? Do you remember voting for her on the first season of American Idol? What are your thoughts on her career? Sound off below in the comment section.
Check back with Country Music Alley for more news on Kelly Clarkson.