Latest posts by Tresa Patterson
(see all)
Tim McGraw and Faith Hill claim their crowns as country music royalty by their pure talent and unmatched determination. Surprisingly, though, the gleam of golden hardware that fills the walls of any place, the couple calls home never captivates their attentions or affection nearly so much as the greatest gems of their union—their stunning, grown daughters, Gracie, 26, Maggie, 24, and Audrey, 21.
Far beyond looks or their last name, each one of these gifted, intelligent, and independent women is out to blaze a trail and make the world a better place. Lately, however, big sister Gracie McGraw drew well-deserved recognition as part of the Broadway ensemble for Broadway Sings Queen, as Country Music Alley reported in April. The May 3-4 shows at NYC's Cutting Room sold out far in advance. At last, Gracie feels the satisfaction of following her dreams in the family tradition of her parents. As it happens, Tim McGraw is hitting the stage at several fair venues this summer. The sensation of a cheering crowd is like no other, for any performer, whether parent or child.
While Gracie grabs the eyes and ears of new audiences, she clearly fails to snare the attention of her "judgmental" dog "son," Baz, in a social media share meant to showcase her fashion. Meanwhile, Pop Tim McGraw's dog makes a splash at Westminster!
Tim McGraw's Daughter Gracie doesn't have 'the look' for her beloved Baz
Not surprisingly to any among her legions of followers, Gracie McGraw assumed her role as an ambassador for body acceptance and positivity long before Broadway finally enlisted her undeniable talents. To her credit, the sister, daughter, and friend never sugarcoats the low times in her life journey. On the other hand, she encourages those in similar struggles to realize "You will always have a support system no matter who that person is to you in your life." In the time of Gracie's need, Tim McGraw and Faith Hill, along with her steadfast siblings, stand ever in her corner, with friends like Rita Wilson ready to offer support.
Like many dog lovers, Gracie McGraw turns to the joy and affection of canine comforts from her faithful pets, too. She even conceded that her dog take the lead in a backyard dance to Bette Midler.  Apparently, great music and great voices are one thing in common between Gracie McGraw and her pooches. Fashion, however, seems to be a whole other matter. How is it possible that the daughter of red carpet dazzlers Tim McGraw and Faith Hill doesn't earn "paws up" in style?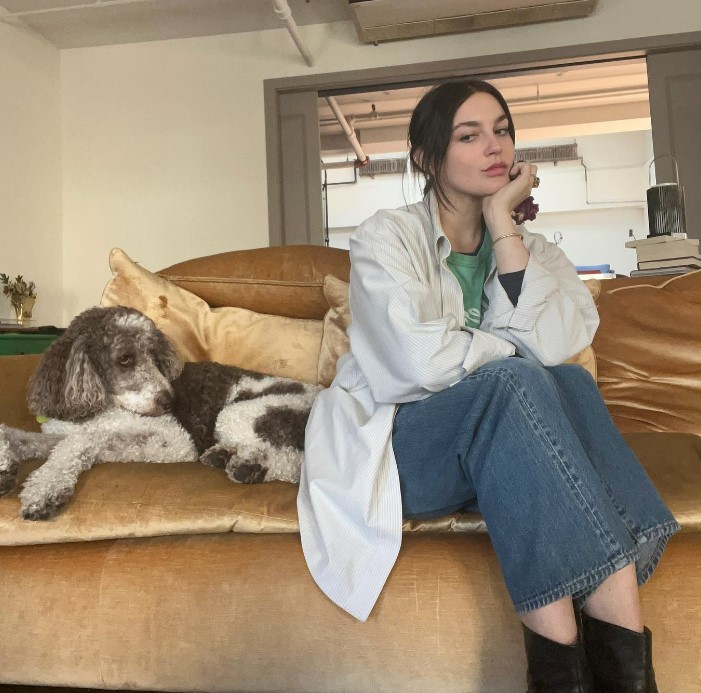 Baz sees no future as a style consultant
Undoubtedly, Gracie looks great these days. Perhaps, her precious Baz, though, had been through one too many wardrobe changes by his pet parent. When the eldest McGraw daughter dons an oversized white button-up over a stylish green T-shirt, completed by denim jeans and black ankle booties, let's just say that Baz gives anything but an approving gaze. His droopy eyes say it all.
"Kids are so judgmental," Gracie McGraw teases in her accompanying words. Quickly, her followers rallied in support. In particular, they applauded the "Brunettaaaa" shade of hair for the influencer, along with the black booties.
Whether Tim McGraw and Faith Hill get dismissive looks or not from their doggies remains unknown. Certainly, though, the family celebrates being dog lovers. Back in 2020, Tim McGraw declared he was the "worst singer" in the family, especially in light of a lovely duet between the family's Italian Bracco, Stromboli, and middle daughter, Maggie.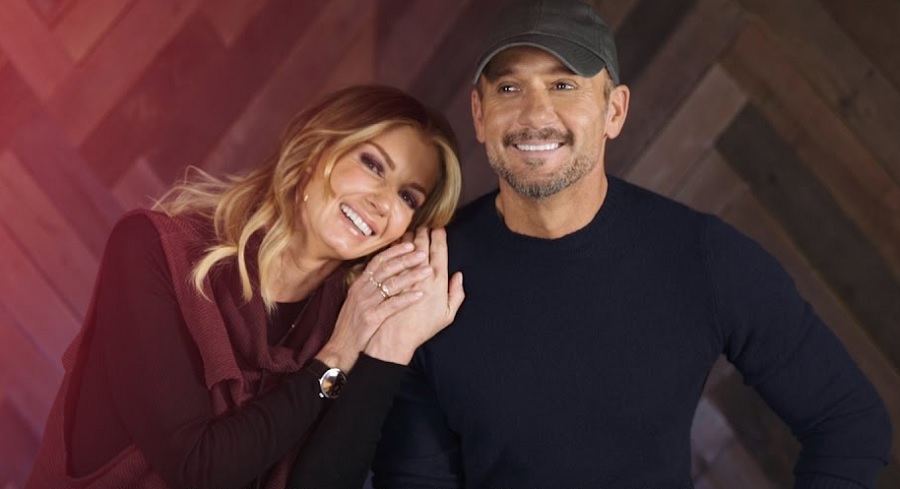 Tim McGraw's dog steals hearts at Westminster
As the record shows and the chart-toppers prove, Tim McGraw knows the songs that are winners. Even more, he knows himself as an artist and is comfortable in his own skin.  The Standing Room Only singer even knows a winner in the family dogs. As Taste of Country confirms, 6-year-old Lepshi, another Italian Bracco in the McGraw clan, took Best of Breed at Westminster Kennel Club Dog Show. This was the first year for the breed to be showcased at the prestigious event.
Gushing on the day of the honor, the proud dog dad made his praise public. "He's always been a winner in our eyes," Tim affirms, not missing another opportunity to note that it was the first year for the breed to be recognized.
Despite being eliminated in the semifinals, Lepshi leaves his first competition a winner. Ryan Wolfe, the dog's handler, further noted that the Westminster first-timer aced the hallmark "ground covering trot" distinctive to the breed. Beyond the breed basics, the handler assures that the new competitor "loves everybody," and that quality assures a bright future for Lepshi!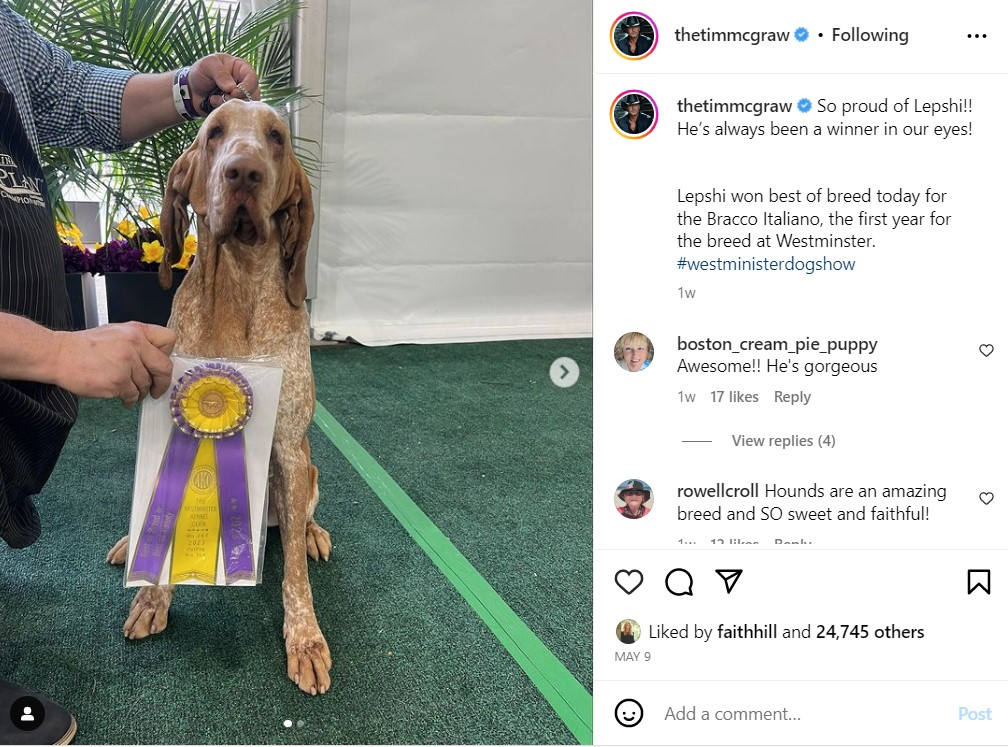 Busy days ahead for Gracie and her dad
More than remarkable entertainers, Tim McGraw and Faith Hill take deepest pride in raising daughters, who care to make the world a better place. Evidently, each of their striking and socially-conscious daughters took their parents' example to heart. While Tim crisscrosses the country this summer as a crowd-pleasing ambassador for country music, who never loses his personal touch, Gracie McGraw is bound to be filling more stages with the range and depth of her gifts.
Whatever the future holds, as fans plead for a Tim McGraw/Shania Twain collaboration project, future projects will never run dry for this loving and legendary family.
Keep dialed into the latest news on Tim McGraw and the McGraw daughters on Country Music Alley.