Grammy-nominee, truth-telling singer-songwriter, and gorgeous mama Mickey Guyton is waking up to a whole new world of love and many sleepless nights since Monday.  After nine loving months of nurture, fears, and preparation, ABC News and MSN per People both confirm the joyful news that Mickey Guyton and her husband, attorney Grant Savoy, welcomed their first child, their son, Grayson Clark, with an announcement on Monday, February 8.
As always, Mickey Guyton keeps the faith and the truth
"it's the hardest and most beautiful thing I've ever done," Mickey Guyton captions the precious photo of her baby boy.  The portrait presents little Grayson lying head-first in his hospital bassinet.  "Welcome to the world, Grayson!" Mickey adds.
At their son's feet, a sweet little knitted teddy bear stands watch over the swaddled new arrival.  Mickey Guyton chooses the perfect Scripture to close her tender words.  "Weeping may endure for a night, but joy cometh in the morning," the singer raised in church writes, quoting Psalm 30:5.  Grayson's grandparents are assuredly proud, and the new addition to the Guyton-Savoy family has aunts waiting in line for snuggles.
The hardest and most beautiful thing I have ever done. Welcome to the world Grayson!

Weeping may endure for a night, but joy cometh in the morning. – Psalm 30:5 pic.twitter.com/QRXtAd5Yrb

— Mickey Guyton (@MickeyGuyton) February 8, 2021
Mickey takes on motherhood
Country Music Alley followed Mickey Guyton's motherhood journey from the very beginning. In August, when the 37-year-old "Black Like Me" Grammy-nominee announced her pregnancy, she movingly related how "Even in times of darkness, like the ones we as a society find ourselves in today, God always finds a way to shine His light on the beautiful side of life, like the miracle of life itself."
The expectant mom relates her sense of being "excited and terrified" simultaneously. "I have no idea what I'm doing but I'm so thankful that God chose me to be this baby's mom," Mickey Guyton echoes, stating the common fears of every first-time mom.
Just two months earlier, Mickey Guyton and her collaborators wrote "Black Like Me" during a songwriting camp, of sorts. Guyton released the song on her social media, sure that her label would not touch the song sparked by the killing of George Floyd and many more victims robbed of life too early amid the outcry of the Black Lives Matter movement.
Spotify took hold of the one-of-a-kind anthem for equality, and the numbers grew. Mickey Guyton marveled at how the song grew into a life of its own, speaking to many more hearts about the pain of being different, unseen, and unheard. The artist was on the air announcing other Grammy nominees when she was stunned to become the first Black woman to be nominated for Best Country Solo Performance. She didn't hide her tears. She credited her emotion to pregnancy, but the moment was a completely deserved and worthy milestone for Mickey Guyton.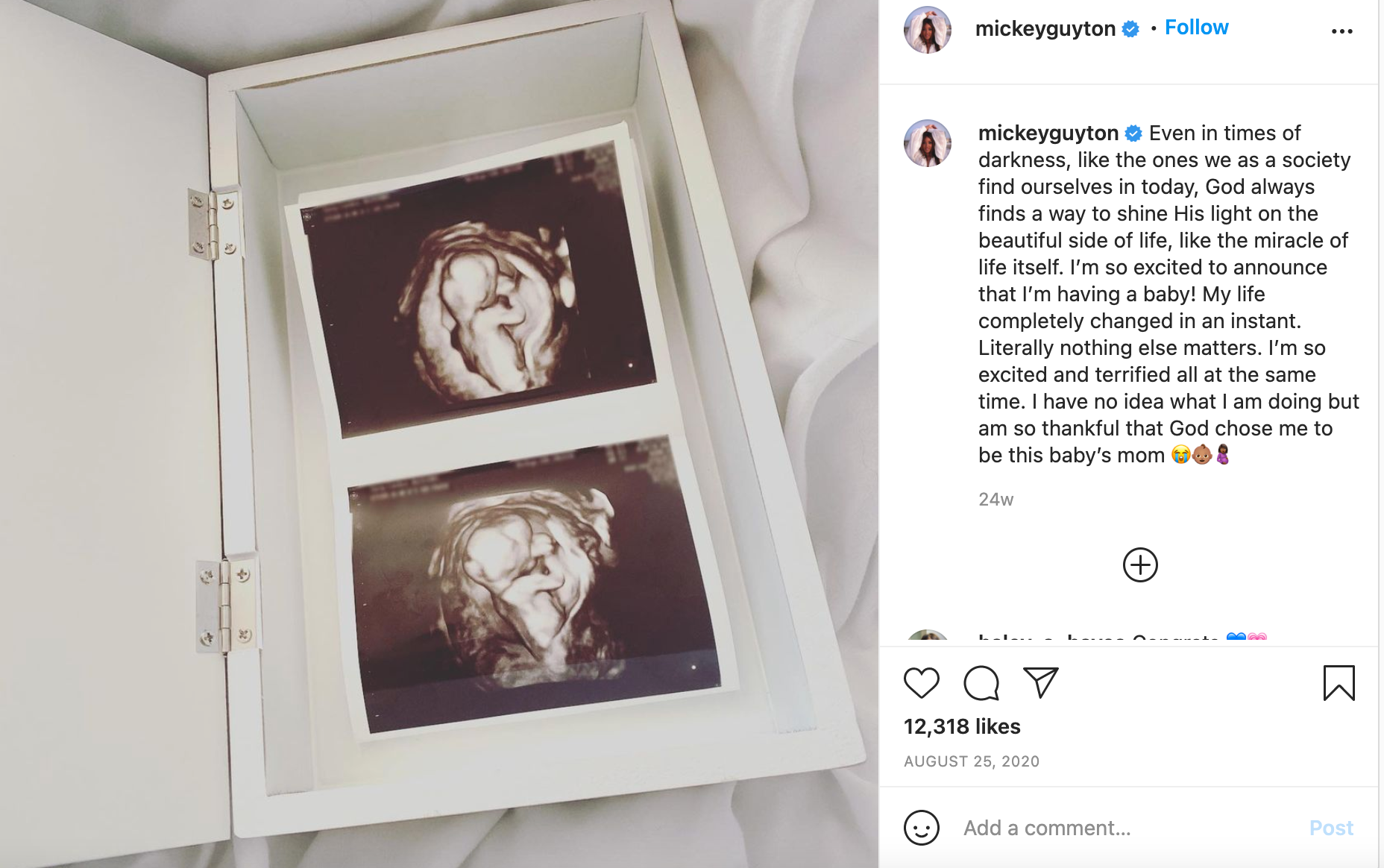 Calling Mickey Guyton a working mother hardly describes her year
Only days ago, Mickey Guyton shares another career milestone. The singer delivered the most personal and powerful rendition yet of the ballad for equality on The Late Show with Stephen Colbert. She made history for the first time at the ACM Awards, inhabiting the stage and looking like a madonna while she sang "What Are You Gonna Tell Her?" in uncompromising conviction. Guyton was the first Black woman to perform as a solo artist at the ceremony.
Throughout her pregnancy and year of prestigious accomplishment, Mickey Guyton embraces her role as a mentor.  She recalls not seeing anyone "who looked like me " while she aimed to emulate Whitney Houston, Dolly Parton, and LeAnn Rimes. Guyton's pledge to stand in her own truth includes her commitment to mentor diverse, aspiring artists across colors and genders. The pandemic didn't put a stop to Guyton's wisdom-sharing with striving artists. She also made time for numerous holiday performances.
Mickey Guyton announced the name of her son during a Today visit in December. Grayson is a tribute to her husband's best friend, Tyson, who passed away, and his father. The tiniest Savoy already inherits a legacy in love and a generational remembrance.
The hardest work of motherhood lies ahead for Mickey Guyton, but so do beautiful rewards
Mickey Guyton admits that initially, she worried about having a career and a child in the country music industry.  "I had to just completely do some reprogramming in my mind and realize that we all deserve happiness and we all deserve a family," she related in a People interview.
Sadly, the songstress finds herself in a very recent situation regarding racial slurs and bigoted attitudes.   As much as Mickey Guyton and Grayson's father support their son in "whatever and whoever he chooses to be," they share very genuine concerns about racism in the world.  Both parents have experienced false claims, the N-word, and other derogatory behaviors of prejudice. "I pray for him," Mickey Guyton assured.
The new parents know that the time will come for "the talk" their son that most white families never have to have. The good news is that Grayson will be surrounded by believers of fairness, justice, faith, love for all.  The world holds its share of hurts, and no mom or dad can shield a child from everyone, but the biggest joys in life come from seeing an investment of love passed down to the future.  This baby already has that security in his back pocket.  He'll also grow up with earfuls of great music that stands for something.  He just might grow up seeing Mommy's shiny trophy with "Mickey Guyton" inscribed on it, too.
Mickey Guyton made her  first indelible artistic mark in her country music career with "Better Than You Left Me."  Her son and his generation will make the world better than today. Change that lasts is a long, hard process.  It often takes lifetimes, but they are lives well spent.
Celebrate the joy
A good friend, Amy Grant, posted a congratulatory reply to one of Mickey Guyton's exquisite pregnancy photos, which Mickey captioned with an Amy Grant lyric. "Stop for a minute. Baby, I'm so glad you're mine," Mickey Guyton writes.
In return, Amy Grant reminded Guyton that "this is your greatest accomplishment," closing with "your fellow hard-working mom."
The hard work will come, but it can wait for now. In this moment, Mickey Guyton can dream of bringing her son home to the nursery prepared with such care and attention.  With baby Grayson safe at home, mommy and daddy might be able to have a night out at the Grammys in a month or so.
Latest posts by Tresa Patterson
(see all)