Before 2020 no one really outside of Oklahoma had even heard of Joe Exotic But after the sensational Netflix release of Tiger King, he and Carol Baskin became household names. Miranda Lambert surprised fans on April 13, 2020, when she posted a selfie with Joe and his crew on her Instagram. During her recent interview with Bobby Bones, Miranda explained when and how the picture came about.
Hurricane Harvey relief
Miranda went to Texas in 2017 after Hurricane Harvey ripped across Texas and caused massive flooding and devastation. Miranda Lambert and her MuttNation crew took rigs and trucks to shelters all across Texas to rescue dogs from shelters. In taking the animals out of these shelters they made room for displaced dogs to be close to their homes. This allowed families to be reunited with their animals more easily. Miranda worked alongside MuttNation "doing the dirty work" as they rescued these animals, and that is how she met Mr. Exotic.
"We were down in Texas during Hurricane Harvey, helping move dogs around to shelters, and he and his people volunteered to help us move dogs because they had all these trucks and trailers. At the time, I obviously didn't know the extent of Joe Exotic and all his ventures, but actually, he was really nice and their whole crew was very helpful."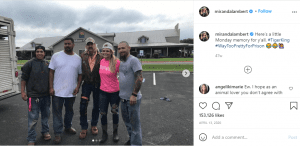 Although Miranda obviously did not know everything there was to know about Joe she was not the biggest fan of his, to begin with. "He ended up being a little bit of a pill, but that was so weird when all of that was happening," Miranda explained. Miranda got the photo from her mom, who "dug it up" from her phone archives.
Although Joseph Maldonado-Passage (Joe Exotic) was a help to MuttNation as they worked it did not change his criminal history. In 2019 Maldonado-Passage was convicted of animal abuse and attempting to hire a hitman. He is now in prison serving a 22-year sentence.
Miranda Lambert talks about her marriage
The Bobby Bones Show interview with Miranda Lambert went on to other topics including her new record The Marfa Tapes and her marriage. Lambert called Jon Randall and Jack Ingram "heroes" to her and gushed about her excitement over the collaboration. "Jack is so talented and he's had a long career, but it's funny to follow him around at 15 years old and watch his shows at Billy Bob's and bars in Texas and now we actually have a record out together, so it's funny how that works out."
But Lambert was really humble about how the record came about. I've been watching [Jack], following him around Texas since I was 15, and Jon, I've known 15 years probably. [It's] Just a bunch of Texas people being friends and writing songs together."
But Miranda recently celebrated her second anniversary to Brendan McLoughlin. She gave some insight into how the pandemic affected their relationship. "If you can survive 2020 together being a new couple, you're kind of golden from here on out," Miranda joked. The couple married in 2019 after only dating for a few months. They met in New York, where McLoughlin was a former NYC Police Officer, while Miranda was promoting with the Pistol Annies.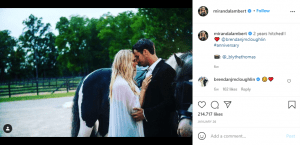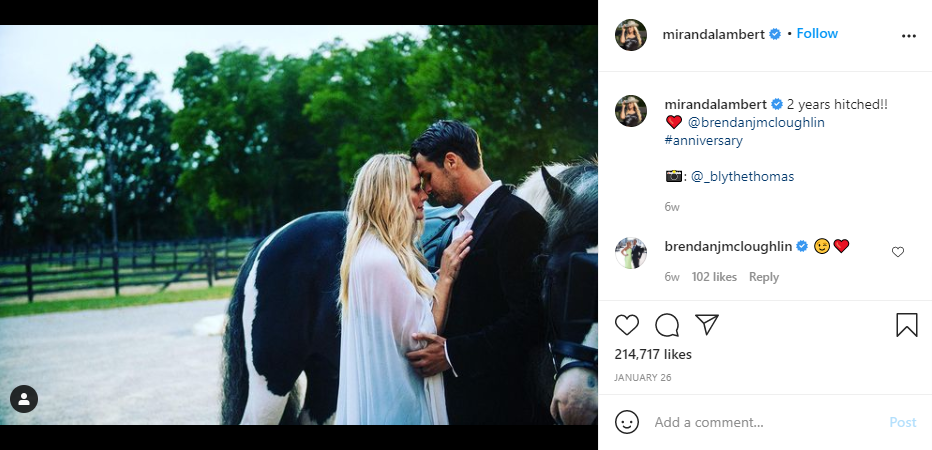 Miranda told Bobby Bones that she is grateful for the lockdowns which made the couple slow down. "[It] was like we could really chill and get to know each other a little better. We really did great….I'm thankful for that downtime, I really am."
Fans can see Miranda perform again on Sunday, March 14, 2021, at the Grammy Awards Show. The show will air on CBS at 8 p.m. ET.
Latest posts by Mandy Robinson
(see all)