Country music diva, Miranda Lambert took to Instagram early Saturday evening to share a heartfelt story of personal loss. Both fans and fellow celebrities flocked to the post to send well-wishes and prayers her way. What happened that had Miranda in absolute shock? Read on to get the details.
Miranda Lambert Shares Gut-Wrenching Loss With Fans
Saturday evening, Miranda took the time to pen out a lengthy and emotional post, sharing the recent loss of her friend and long-time guitarist, Scotty Wray. The 38-year old vocalist tells fans in her post that she has "lost one of her most treasured friends." Miranda Lambert as well as her band and road crew all considered Scotty a member of their family. She says that they are definitely feeling the loss of his absence.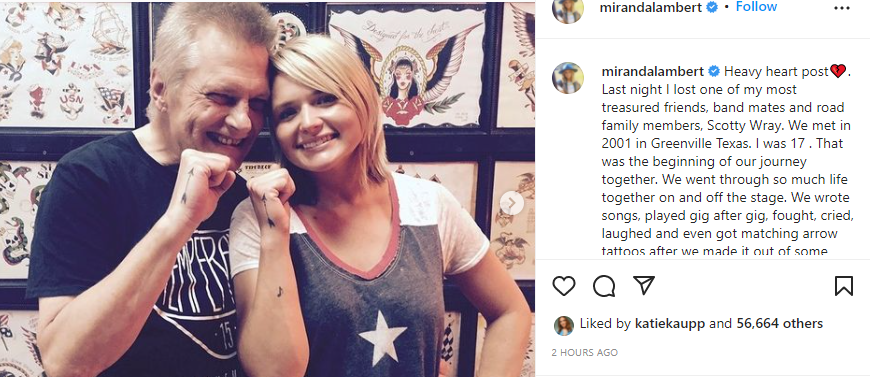 Twenty Years Of Friendship
In her post, Miranda shares intimate details about her friendship with Scotty. Many fans were shocked to find out that Scotty Wray has been involved in Miranda's career since before she became a household name. The singer reveals meeting her beloved guitarist in Greenville, Texas at the age of 17. Her career had literally just taken off after her run on Nashville Star when Scotty came into the picture. Scotty would go on to become one of Miranda's most trusted friends, a mentor, and a confidant.
The pair spent nearly 20 years making music together. Miranda tells fans in her post that those years held a lot of highs and lows for both of them, both on the stage and off. The celeb also reveals that the pair had matching arrow tattoos that symbolized the end of a particularly tough time in their lives.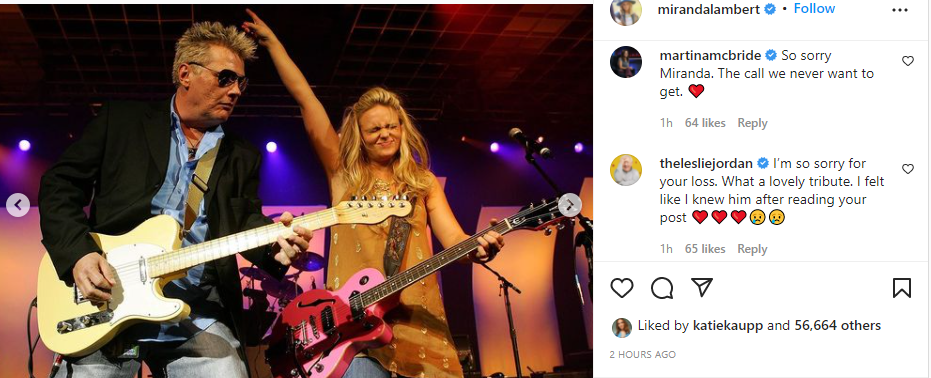 Honkey Tonk In The Sky
Despite her sadness, Miranda Lambert says that she is lucky to have shared the stage with Wray for over 20 years. She counts herself blessed to have been his friend and says that he is one of the few people that she could always count on to be there for her. The singer says that no matter what was going on in her life if her friend was by her side she felt absolutely confident that she could take on the world.
While his physical presence is something that Miranda says she and her crew will miss terribly, she knows that Scotty Wray is always there with her in spirit.
"Scotty Wray was family to me," she wrote, "and I'll never sing a note without him because I know he is there with me. He always has been. I love you my sweet Bud Wray."
The acclaimed country diva goes on to say that while his friends and family here on earth will be dealing with the heavy loss of an amazing person, heaven will be lively with the sound of music.
"Heaven is lucky cause that honky tonk band up there just gained another guitar pickin angel, Miranda mused, "Rest easy my love."
Miranda's friends and fellow country music artists flocked to her post to send positive vibes and well wishes to the singer and the guitarist's family. Those who stopped by the post included Hillary Scott of Lady A, Martina McBride, and comedian Leslie Jordan.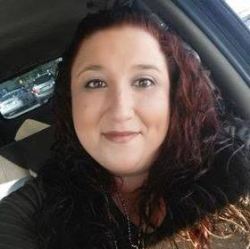 Latest posts by Nikki Desrosiers
(see all)