People say that country music is always about heartbreak. The joke that "if you play country music backward you get your dog back, your wife back and your house back," is sometimes true. Country music focuses on relatable hurts and triumphs, and unfortunately, loss is a part of that. But there are so many country music couples that reached milestones in their relationships and marriages that need to be celebrated.
Marriage is not easy to begin with, add in fame, and it is almost a recipe for disaster. But some of the few have proven it can be done. So, with Valentine's Day approaching, tip your hats to the ones that have made it last. Now, this list is not exhaustive, so fans, don't get mad if your favorite country couple is not here.
Ten years and counting
Anniversaries are given themes for gifts by the year, and these gifts become more "precious" the further you go, of course. Now making marriages last is tough so let's start with those that have reached ten years, or "tin."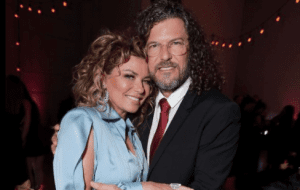 Shania Twain has been married to her husband Frederic Thiebaud for ten years. But this success came on the heels of devastating heartbreak. Shania and Frederic were friends for years, then they discovered their respective spouses were cheating on them with each other. Shania and Frederic leaned on each other. And although Shania said she "never wanted to love again," she fell for Fredric. The couple just celebrated ten years of marriage on January 1.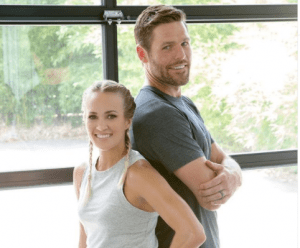 Carrie Underwood and Mike Fisher celebrated ten years on July 10, 2020.
Some country music couples found each other through the music. Chris Stapleton and Morgane Hayes have been married for thirteen years and they met when Chris asked her to help him write a song.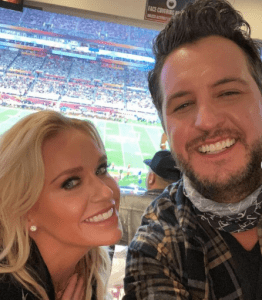 And country music's favorite prankster couple, Luke Bryan and Caroline, reached fourteen years in December.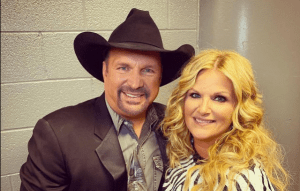 Garth Brooks and Trisha Yearwood also fall into the category of music brought them together. The couple met each other over thirty years ago. But they were both married to other people when they met. The couple admitted to falling in love at first sight but they did not become a couple until 2002 and they got married in 2005. Fifteen years and counting for these two.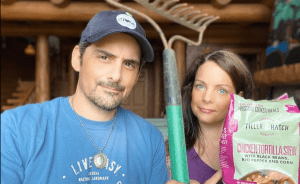 The last couple to highlight in this group is Brad Paisley and Kimberly Williams. Brad has said that he and Kimberly would never have gotten together without music. Brad had been smitten with Kimberly ever since he saw her in Father of the Bride. So, when he needed an actress for a music video he knew exactly who he wanted. Kimberly acted in Brad's "I'm Gonna Miss Her" music video and they started dating. The pair have been married for seventeen years now.
Moving up to 20
The next few couples are the ones that have reached and passed their "china" anniversaries.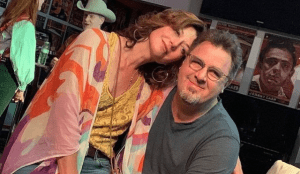 Vince Gill and Amy Grant passed this impressive milestone just last year and will celebrate twenty-one in March.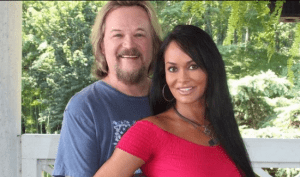 Travis and Theresa Tritt have been married for twenty-three years.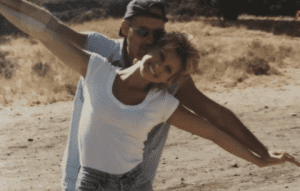 One of country music's power couples, Tim McGraw and Faith Hill have been married for twenty-four years. And October will actually see them celebrate their silver anniversary with twenty-five years! But their relationship was not without its struggles. Tim had a public battle with addiction that nearly ended the couple. Tim credits Faith with pulling him back from the edge. "When your wife tells you it's gone too far, that's a big wake-up call. That, and realizing you're gonna lose everything you have. Not monetarily, not career-wise, but family-wise."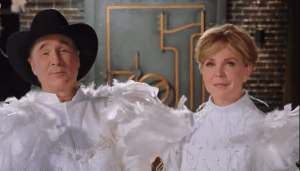 One couple that will soon be leaving this decade with twenty-nine years of marriage is Clint Black and Lisa Hartman. The couple originally met at one of Clint's concerts and they have gone on to record three songs together. The couple knows how to have fun and recently participated in Season 3 of The Masked Singer as the Snow Owls.

The other couple that has been married twenty-nine years is Willie Nelson and Annie.
Thirty years and on
Reaching the pearl anniversary is a feat. Hats off to these country music couples
Sadly, not all of the couples on this list are still with us. But they were able to spend the time they had with those they truly loved. George and Nancy Jones had thirty years together before George passed away in 2013.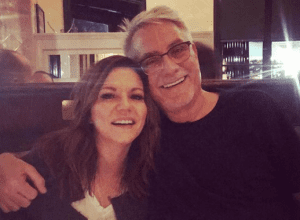 Martina and John McBride said "I do" in 1988, giving the couple thirty-two years together.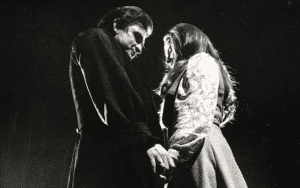 Another couple that country music has lost but will never forget is Johnny Cash and June Carter. The couple had a passionate and tumultuous love story, which inspired the movie Walk the Line. June Carter wrote 'Ring of Fire' to explain her hurt over her love for Johnny who was married at the time. The couple married a year after Johnny divorced his wife, but he had to propose multiple times and in front of a live audience before she said yes. The pair had thirty-five years together before they passed away in 2003. June died first and Johnny followed only four months later.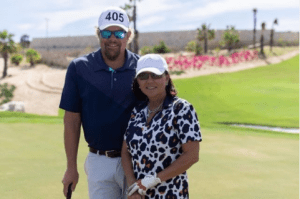 One couple has a rags-to-riches story. Toby Keith and Tricia Covey have been married for thirty-six years. But before Toby made it big, he worked on the oil fields. The couple struggled to make ends meet and when oil took a hit Toby decided to really pursue his music. Friends tried to tell Tricia to leave Toby or to get him to "get a real job," but she disagreed. Toby once shared, "It took a strong-hearted and loving woman to say, 'He's good enough at music that I've got to let him try. And it'll be a great shot for both of us if he can make it work.'"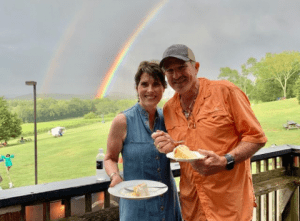 The couple on the verge of graduating this decade almost didn't get married at all. Kix Brooks admitted that he overslept and almost didn't make it to his wedding on time. Thankfully he and Barbara made it through the day, despite the rushed beginning, and have been together thirty-nine years.
Forty and forever
For the country music couples that make it to their fortieth anniversary, there is not much to say. Other than you have earned all the rubies this year calls for.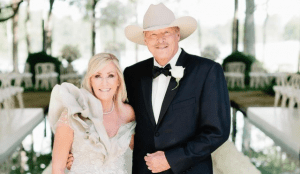 For high school sweethearts, Alan Jackson and Denise, forty-one years is special. The couple came to Nashville together immediately after they married. Denise believed in Alan's talent so much that she ultimately helped him get his first break when she was able to introduce him to Glen Campbell.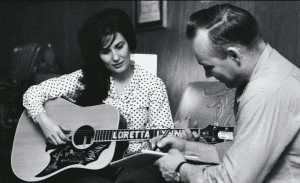 A classic country couple that made their love last until death did they part was Loretta Lynn and "Doolittle" Lynn. The couple spent forty-eight years together before "Doo" died in 1996.
And this decade's graduating couple is George and Norma Strait. This couple also started out as high school sweethearts. They have experienced amazing highs, but they have also survived unimaginable lows. George and Norma welcomed their first child, daughter Jenifer in 1971. But tragically Jenifer died in a car crash when she was only thirteen years old. The couple used their loss to help other children and established The Jenifer Strait Memorial Foundation.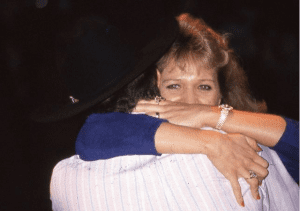 George is a very private person and does not give a lot of interviews, but he has commented on his relationship with Norma. "Norma and I are so blessed that we found each other … and were able to do all of this together, experience this life together, to support each other through everything, good times and bad. We do almost everything together … We love each other and we still like each other. A lot!"
Country music's leading couple
The longest-lasting pair out of all the country music couples is to none other than Dolly Parton and her husband Carl Dean. These two have been together since 1964 when they met outside a laundromat in Nashville. They married on May 30, 1966, and this year they will celebrate their 55th (Emerald) anniversary!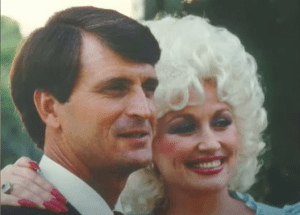 The couple has been so private about they almost never give interviews or have photos taken together. But Dolly supports Carl's desire for privacy and knows that her husband would hate being in the spotlight. However, Carl's privacy may be a key to the success of their marriage. Dolly spoke about how Carl always finds ways to make her feel special and keep their love alive.  "In the springtime when the first yellow daffodils come out…my husband always brings me a bouquet. And he'll usually write me a little poem. Which to me, that's priceless."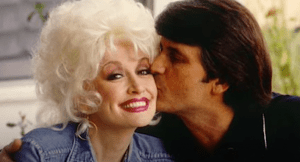 Did your favorite country artist make the list? Let us know in the comments down below.
Latest posts by Mandy Robinson
(see all)